Composition of the Commons will change as more women stand for winnable seats.
Female representation in parliament is set to jump to just shy of 30 percent following the general election in May, according to a report by the Electoral Reform Society (ERS).
Women in Westminster predicts that 192 of the 650 seats in the Commons will be taken up by women, a rise of 6.6 percent on the current parliament, boosting Britain from 56th to 36th place in global rankings of female representation.
"There is, then, cause for some celebration," the ERS wrote in the report. "An increase of 44 women MPs is certainly an improvement on the parties' performances in 2010.
"And a 6.6% increase is a considerable advance on the previous three general election cycles. If that pace were to continue, there could be gender parity by 2030."
Of the major parties, Labour would lead in terms of female representation under the ERS predictions, with 41 percent of its forecasted MPs being women, double the amount predicted for the Conservatives.
Among the other parties only the Scottish Nationalists are thought likely to claim a sizeable number of female MPs, with 13 of their forecasted seats taken up by women, a third of the total.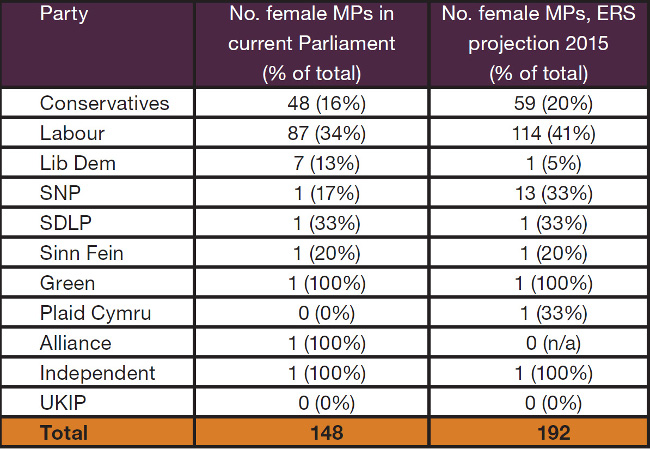 Source: Electoral Reform Society
Whilst the Greens can claim the be the most female party with their solitary Brighton MP Caroline Lucas the only one from the party expected to be elected in May, recent figures from Parliamentary Candidates UK showed they had fewer ethnic minority parliamentary candidates than Ukip.
Commenting on its research, ERS claimed that the first-past-the-post (FPTP) electoral system, which tends to result in duopolies in each constituency by discouraging voting for fringe parties, was also responsible for a lack of women in parliament.
It argued that because FPTP favours incumbent MPs, who are mostly male, and encourages parties to put broadly acceptable candidates up for election, it also stops women from being elected to the Commons.
"First past the post is the world's worst system for achieving gender balance," it said. "As parties evaluate their progress towards equal representation, they should make an honest assessment of the implications of continued use of FPTP for achieving equality."
Image – Boulet Fermat