Labour's contest over the leadership and future direction of the party is highlighting that age-old split between what the party wants to achieve and what the country wants from them.
Following Chuka Umunna's surprise departure, which despite rumours of a major Sunday newspaper scoop appears to have been based on a sharp rise in media scrutiny over his family, the field is now left open to former Labour ministers Andy Burnham and Yvette Cooper, as well as rising stars Liz Kendall, Tristram Hunt and Mary Creagh.
Yet already questions are being asked as to whether the internal politics of the party are likely to hamper its electoral chances the next time the country goes to the polls. A survey conducted by the pollster YouGov on behalf of The Sunday Times has revealed that while the public want Labour to move to the centre, the party membership is not so sure.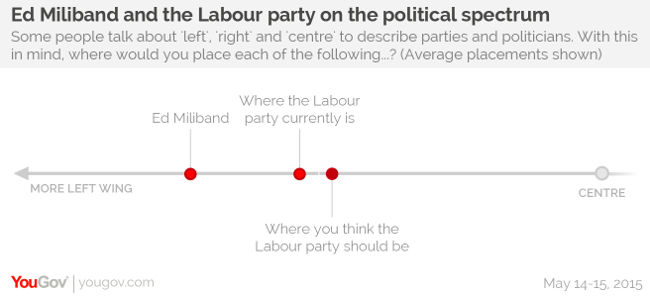 As you will note from the graph above, Ed Miliband is perceived as being to the left of where his party was, even though public want only a slightly more centrist stance from Labour as a whole. Will Dahlgreen and William Jordan give more detail:
In a question that directly asks where the next leader should take Labour, 40% say closer to the centre and only 21% say further to the left.
The views of Labour voters are more equivocal:
Labour voters are unsure – 30% choose the left, 35% the centre and 10% where they are now.
Last time the Reds voted for a chief the unions managed to swing it for Ed Miliband, whose perceived incompetence and attacks on predatory capitalism are credited for Labour's thrashing at the polls.
As many have warned, Labour's new voting rules may have inadvertently handed even greater powers to the unions, who can enlist their members for free for the leadership ballot. Whilst last time they made up for a third of the vote in an electoral college system, this time under One Member One Vote they could have half the voting power.
If that happens we could have, as former prime minister Tony Blair correctly said of this election, a contest "in which traditional left-wing party competes with a traditional right-wing party, with the traditional result".
Header image – Voting Labour Badge by Simon Speed