Deprecated
: Function create_function() is deprecated in
/home/jimmyni1/public_html/wp-content/plugins/wp-spamshield/wp-spamshield.php
on line
2033
Even as chancellor George "Giddy" Osborne sets out his plans to hand over broad powers to Manchester, the restless Northerners were brewing rebellion on social media.
Indeed a Change.org petition created last year demanding Parliament "allow the north of England to secede from the UK and join Scotland" has been recirculated on Twitter under the hashtag #TakeUsWithYouScotland –no doubt a reaction to the triumphant Tory majority victory at the polls last week.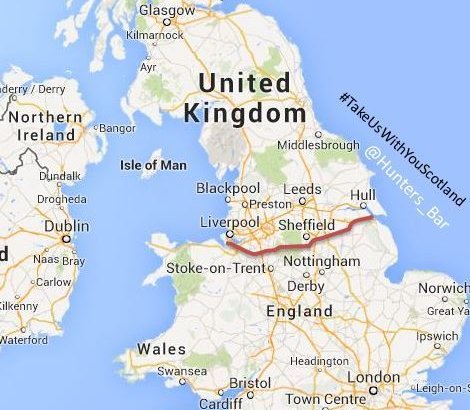 Under the plans outlined by one Stu Dent, England would be hewn in two between Sheffield and Nottingham, leaving the cities of Manchester, Liverpool and Newcastle in a new country, presumably called Greater Scotland.
Despite the love-in between the Jocks and the Northerners, many on Twitter were incensed to find their own neck of the woods lumped in with the slimy Southern English Tories. Some begged to be annexed by the mighty Scottish Nationalist administration in Holyrood, Edinburgh, and pretty soon things got out of hand:
#TakeUsWithYouScotland 😄 pic.twitter.com/66HFNkKulm

— melanie lee (@lenaya83_leigh) May 14, 2015
Whilst the above image does betray a naive understanding of the Democratic Unionist Party's politics in Northern Ireland, it does point to a wider truth: For many on the Left London is an enemy rather than an ally to getting the politics they want.
Looks like Giddy's reforms can't come fast enough…