Deprecated
: Function create_function() is deprecated in
/home/jimmyni1/public_html/wp-content/plugins/wp-spamshield/wp-spamshield.php
on line
2033
If there is one thing likely to rouse the Fleet Street paps to an event (besides, obviously, the promise of booze) it is a guarantee of what the pressman's lexicon has as "totty".
One therefore has to admire the cunning of those who decided to gather London's feminists near Speaker's Corner in Hyde Park in nothing but their bikinis. That the assembled were there to protest the recent "Are you beach body ready?" advert, which they say places unfair expectations on women, was a neat irony, but feminism has rarely been shy about recruiting flesh to its cause in the past.
This is what I think of @ProteinWorld's advert…. #proteinworld #beachbodyready #eachbodysready pic.twitter.com/vUUwuEu7Yt

— Laura Stevens (@Laura_Stevens1) April 23, 2015
Though some 70,000 people signed a Change.org petition and several hundred complained to the Advertising Standards Authority (ASA) – which has duly prohibited it with questions over health claims, offensiveness and social irresponsibility – almost all of the thousand who said they would attend the Hyde Park protest bottled it at the last minute, as the rain clouds hung over London's sky.
Such was the mismatch between journalists and protestors that it was hard at times to tell who outnumbered whom, a fact that may not be reflected in the impending reports which will doubtless feature images of the shivering would-be swimmers, many of whom had scribbled across themselves in felt-tip pen.
Though many were offended by the adverts, the main complaint was that such imagery was hurting people. Karl, one of a dozen or so men who had turned out to protest, said that he had known someone who had suffered anorexia as a result of pressure to be slim, a problem that has been widely reported in secondary schools around the country.
His friend Agnieszka said that while she believed people should watch their weight and exercise, she herself did not find the image of the advert's bikini-clad model Renee Somerfield attractive. "To be honest I don't want to look like that. I want to be thin, I want to be healthy: but it's too thin."
Despite this there was a reluctance to ban the pictures outright. Carolina, a mother who had attended with her two adult daughters, said: "I think there's always people who will side-step government regulations." What she called for was a "community-driven" approach, the kind of campaigning that is much in vogue among feminists as they seek to deter what they see as bad behaviour without government involvement.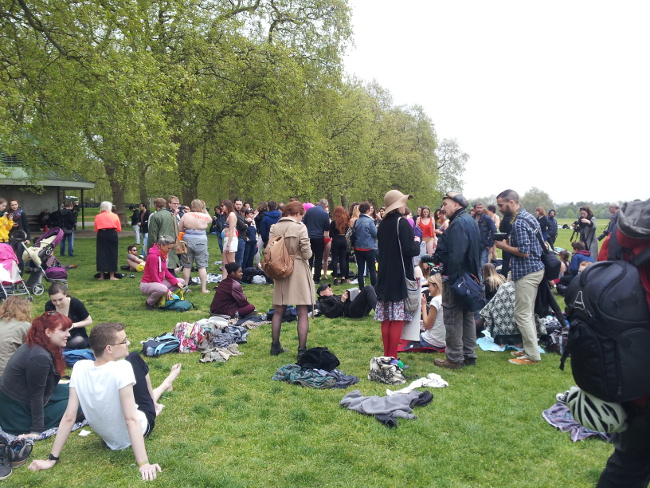 Worthy censorship?
Few would dispute that one of the hazards of modern life is a troubled relationship with food. Data from the UK's National Obesity Observatory showed that 62 percent of adults aged at least 16 were obese or overweight in 2013, with men 10 percent more likely to be so than women. In the year to October 2013 some 2,560 people were admitted to hospital with eating disorders, an 8 percent increase on the year prior, according to the Health and Social Care Information Centre, a public stats body.
But some question whether it is wise to combat this problem with increased censorship of the media. Bernie Whelan, an occasional writer on the radical website Spiked, was one of the few who looked on the event with dismay. "It's so insulting to women to say you can't stand an advert," she said.
Like many critics of modern feminism, she cites a growing "victim mentality" among the current crop of women's rights activists, which has led many to support censorship as a means of improving society. "I suppose even in the 80s many feminists were censorious, but at least there were some feminists for free expression," Whelan added with not a little regret.
Whether it is for good or ill, the influence of feminists in deciding what can or cannot be published is growing. Discussions over demographic representations in art, gendered toys for children and the alleged dangers of pornography are now the stuff of mainstream journalism, with even the folks at The Sun abandoning the decades old Page 3 feature. Perhaps the Mad Men will yet be tamed.