America's Republican Party has been inundated with presidential candidates for next year's election, notching up an impressive 17 at the last count.
As such someone at the GOP ("grand old party", a common nickname for the Republicans) decided that this was too many for there to be a coherent conversation on stage, and invited Fox News to whittle down the crowd to something more manageable in the national debates, the first of which took place on Thursday night.
(And let's be fair, 17 candidates could end up looking like a pale and male gospel choir on stage, with the exception of neurosurgeon Ben Carson and former HP boss Carly Fiorina.)
The controversial response from Fox News, who hosted the 1st Republican national debate, was to cut those allowed on stage to a mere ten, using polling to decide the candidates' fates.
This may sound sensible, but at this stage of the presidential race national polling means little. May I remind you that the election will be held 15 months from this primary? And does anyone remember Newt Gingrich from the 2012 race? He was polling at 1st place for over a month, but his position waned and he ended up sidelined.
Fox's move has become even more scandalous because the broadcaster had said it would take an average of the past five national polls, but this week decided to exclude one. Fox could have also chosen to split the candidates evenly among two debates rather than having what MSNBC's Rachel Maddow has affectionately called a 'grown-ups' and 'kids' table', the latter made up of the seven trailing in the polls.
Even with this setup Twitter lit up when the kids' table went live a few of hours before the big guns, with Fiorina, former CEO of the technology firm Hewlett-Packard, widely declared the winner, at least on social media.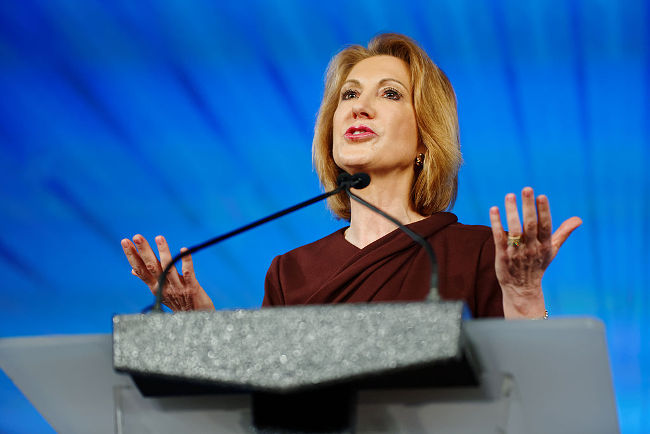 Carly Fiorina at Southern Republican Leadership Conference, May 2015 by Michael Vadon
As the main debate kicked off some hours later some questions were hilariously contrived, not least the opener where the candidates were asked if they would support the Republican nomination for president "without question" if it weren't them. Celebripolitican (I'm claiming that phrase) Donald Trump was the only one who said no, making no attempt to douse the rumours that he may run as an independent candidate.
Overall the broadcast felt more like a series of mini, 60-second interviews with a rowdy crowd and sporadic inter-candidate heckling than the "debate" it was touted as. There were some nearly-hilarious clashes between Trump and Rand Paul, the Kentucky senator standing on a conservative libertarian platform, but they had more shrugging than substance.
Most interactions between the podiums were those of agreement, with little dispute offered on the new Iranian deal, abortion rights or incumbent president Barack Obama's record. In a rare move away from the obvious line John Kasich, governor of Ohio, did seem warm to gay marriage, saying he attended a same-sex wedding and would support a hypothetical gay son or daughter.
But the show-stealer, and the reason we all tuned in, was undoubtedly Trump, the 'Billionaire Reality TV Star' as Sky News had it. And though he wound down in the second half of the debate, he gave us some absolute crackers.
Early in the night Trump fired a shot across the bow of one of one of Fox's moderators, Megyn Kelly, when she asked him to comment on the fact that he has called women "fat pigs, dogs, slobs and disgusting animals" on social media in the past. "Maybe I shouldn't be so nice to you," he snarled back, casting himself as a victim of media scrutiny.
Yet it was not all theatrics from the Trumpster. Indeed on the topic of immigration the businessman made an apt observation, arguing: "If it weren't for me you wouldn't be talking about illegal immigration."
He went on to mention a favourite solution to illegal immigration of the Republican Party, the mythical wall with Mexico:
"We need to build a wall and it needs to be built quickly. And I want to have a big beautiful door in that wall so people can come into this country legally. But we need to build a wall, we need to keep illegals out."
So begins a long slog towards the presidential election on the 8th November 2016, but the starting gun has been officially fired in a flurry of toupees and podiums. If you missed it, never fear, there will be one of these debates every month until 2016.
Meanwhile the Democratic televised debates, also known as the coronation of Hillary Clinton, will begin in October.
Header Image – Still from Republican presidential debate, Fox News.