Deprecated
: Function create_function() is deprecated in
/home/jimmyni1/public_html/wp-content/plugins/wp-spamshield/wp-spamshield.php
on line
2033
Censorship fans lined up to condemn French satirical magazine Charlie Hebdo for a set of cartoons mocking the West's response to the ongoing migration crisis.
Peter Herbert, chair of the Society of Black Lawyers, threatened to take the magazine to the International Criminal Court over two cartoons featuring Aylan Kurdi, a Syrian toddler whose corpse was photographed after it washed onto the shores of Turkey.
Charlie Hebdo is a purely racist, xenophobic and ideologically bankrupt publication that represents the moral decay of France.

— D Peter Herbert OBE (@herbert_donald) September 14, 2015
The Society of Black Lawyers will consider reporting this as incitement to hate crime & persecution before the International Criminal Court — D Peter Herbert OBE (@herbert_donald) September 14, 2015
Whilst Herbert has an OBE it clearly is unrelated to services in understanding the meaning of cartoons, since both of the Charlie Hebdo pieces in question attack the West rather than the migrants.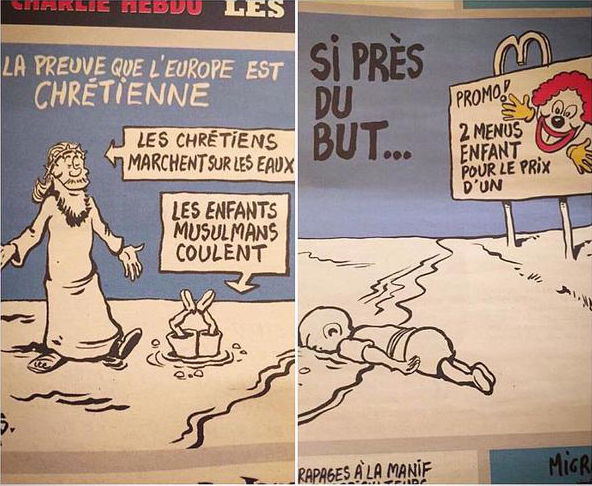 Source: Charlie Hebdo via Blazing Cat Fur
The image on the left roughly reads: "The proof that Europe is Christian. Christians walk on water. Muslim children sink."
This references several Eastern European leaders who have opposed refugees because they are Muslim, the east of the continent being more homogenous than the likes of France, Germany or Britain.
The image on the right roughly reads: "So near the goal." And the billboard reads: "Promotion! Two children's meals for the price of one."
Far from attacking Kurdi or the Syrian refugees, this is intended to attack Western consumerism in the face of refugees' suffering, Charlie Hebdo being staffed by a number of committed socialists.
Maajid Nawaz, founding chair of anti-extremist group the Quilliam Foundation, wrote on Facebook:
"Fellow Muslims, please, if you don't get satire just ask someone before assuming an intelligent left-wing satirical magazine isn't satire. Taste is always in the eye of the beholder. But these cartoons are a damning indictment on our anti-refugee sentiment."
This didn't stop a number of ignoramuses misinterpreting the cartoon, in turn vindicating the work of Charlie Hebdo, which has attacked everything from Catholicism to sexism to the West to Islam, the latter of which resulted in a gun attack on the magazine's Paris office in January, killing many of the most prominent cartoonists.
In the guise of "Freedom of Expression", Charlie Hebdo mocks the death of #Aylan. pic.twitter.com/apWK9BUIml

— Majid Agha (@Majid_Agha) September 14, 2015
Ladies and gentleman, Charlie Hebdo. That's why i was not and will never be Charlie. How can you mock that poor kid?? pic.twitter.com/q56oNrZgnY — Zariyab Mhd (@iZariyab) September 13, 2015
Image Credit – Je Suis Charlie, January 2015 by Thierry Ehrmann