London is due to swallow masses of public investment despite government promises to rebalance the economy away from the capital, raising questions over Conservative commitment to both austerity and the so-called "Northern Powerhouse".
Tory opposition to public infrastructure investment has in the past been justified by the "crowding out" thesis, which argues that public investment can discourage private investment, meaning that reducing public investment in a given region should boost economic growth.
Speaking in his 2010 budget statement, chancellor George Osborne said: "Our policy is to raise from the ruins of an economy built on debt a new, balanced economy where we save, invest and export. An economy where the state does not take almost half of all our national income, crowding out private endeavour."
Yet in March of this year Osbo pledged £13bn for transport investment in North England, which in combination with the £50bn HS2 rail project was spun as a bid to make "the Northern Powerhouse a reality".
Since then analysis from the Sheffield Political Economy Research Institute (Speri) shows that despite London having more businesses per person than any other English region, particularly the northernmost three, planned public investment is disproportionately targeted towards the capital.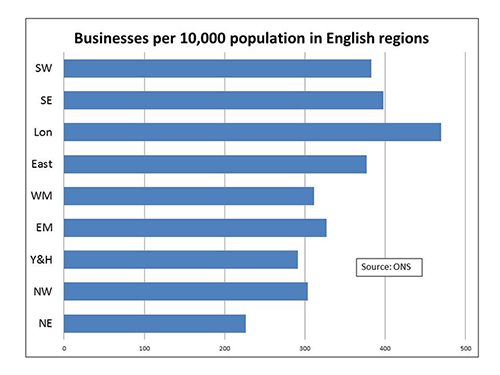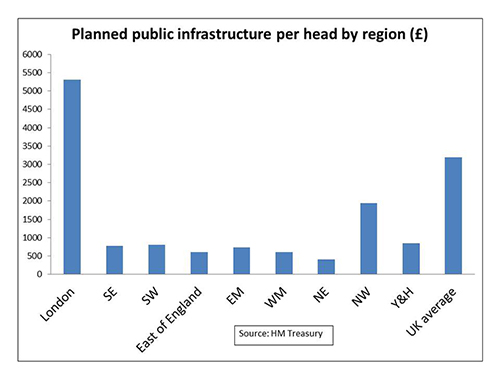 Sources: Office for National Statistics, Treasury and Speri
Writing online, Speri's policy research officer Tom Hunt and deputy director Craig Berry said:
"It is of course possible, but extremely unlikely, that the government has decided to ration infrastructure investment outside of London because it believes profoundly in the crowding out thesis, and therefore does not want public investment to inhibit a private sector-led recovery in the North.

"It is far more likely, however, that the crowding out thesis is purely part of the rhetorical justification of austerity, and forms no part of the actual decisions on where the public sector should invest in infrastructure in practice.

"Instead, the government is content to maintain the bias of investment towards London, because it seeks to support the strong business activity that already exists in the capital."
The pair argued that short term investment in the North, such as beginning HS2 construction from Manchester and Leeds rather than London, would create jobs in the region.
Medium-term investment in transport would help workers travel to work faster and move goods faster, they added, measures which would also ease Britain's long-held productivity problem.
Image Credit – Tyne Bridge, January 2012 by Neil Turner