In some ways it's hard to imagine a city less attuned to the Green party than the gas-guzzling, capitalistic, cutthroat capital that is London.
As well as being a city dominated by fat cats and power-grabbing pols, the capital's working poor are some distance culturally from the residents of Brighton who continue to deliver the party its only MP in Caroline Lucas. One doubts that the Shoreditch hipsters can make up the shortfall.
But fixating on that would be to forget that in 2012 the Greens' London mayoral candidate Jenny Jones pulled ahead of the Liberal Democrat Brian Paddick to secure third place, pre-empting a strong showing in May's general election where the Greens quadrupled their national vote from 2010 to secure 1,157,613 ballots.
All that in mind, Sian Berry, the Green's current London mayoral candidate, looks set to improve significantly on her last attempt to take City Hall in 2008, where she took 3.2 percent of the vote and came in at fourth place. Since then she has been busy working for the Campaign for Better Transport and winning a seat on Camden council in 2014.
"London is a really great size to have an election because you can reach everywhere in a day," Berry told the Right Dishonourable over the phone a week after she won the Green ticket to run for mayor.
The comment is apt, since Londoners tend to be more obsessed with transport than most city folk, and the struggling combination of trains, buses and Tube will be a key battleground for contestants in next year's election. The trouble for the Greens is that even more transport is liable to push London's pollution levels even further past the supposed legal limit.
Boris Johnson, the Tory mayor poised to step down as his second term comes to a close next year, has loosely agreed that East London needs more road crossings, with sites currently under consideration including Silvertown, Gallions Reach and Belvedere.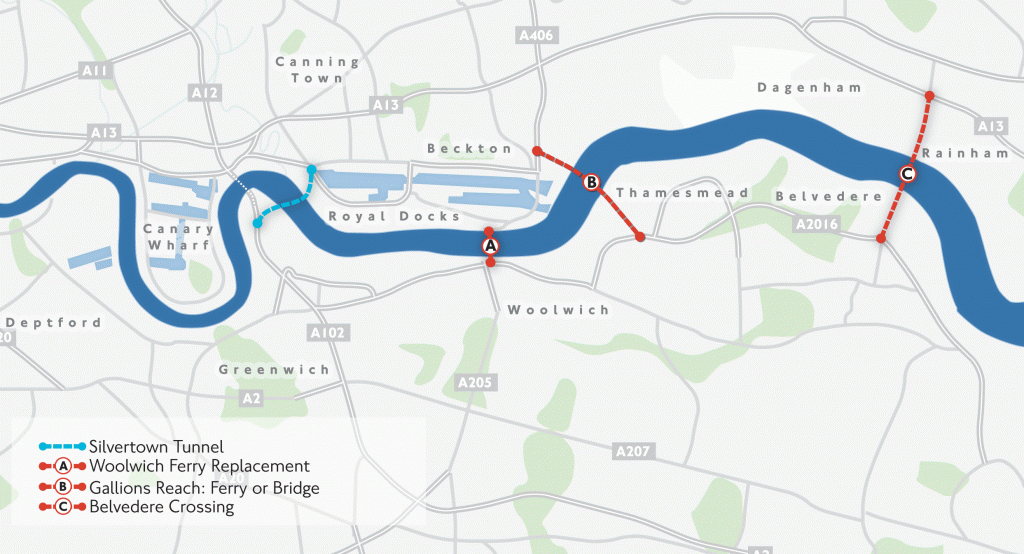 Source: Transport for London
Yet Berry opposes such crossings. "In my view having people in cars is the most inefficient way of moving people around," she said. Instead she emphasises the importance of buses and public transport, and also wants to encourage people to walk instead of taking the Tube only a stop or two.
Tied into this plan is Berry's ambitious scheme to pedestrianise parts of London, including bits of the West End and Oxford Street, which as the main entertainment and shopping districts are already among London's busiest areas.
"The main reason is to make the place better [to walk around in]," she said. "At the moment it's not really a nice environment." Indeed if she had her way her way Oxford Street would not just be used for shopping, but for other cultural activities.
Berry is also not too much a fan of Uber, a taxi-hailing app which has stirred up hostility from London's black cabs. "What Uber tried to present themselves as is a car-sharing app, but really it's more likely cheap taxis," she said, not unfairly. Since the company has enticed more drivers onto the roads it would likely be faced with more regulation under a Green mayor.
Turning away from transport, the Right Dishonourable asked Berry what she would do about gentrification, a process afflicting many of the poorer parts of London as richer folk move into downtrodden boroughs, driving up prices and forcing original residents to leave, in what some have termed "social cleansing".
"Social cleansing is the right word for what's been happening," Berry said. She argued that some councils have been riding roughshod over the wishes of their residents when it comes to planning permission, and as such one of her key ideas involves handing back control to locals over housing, among other things.
"We're going to be coming up with lots of ways to hold mayors to account," she said, adding jokingly that her party was "not just going to impose our Green will" on London's boroughs.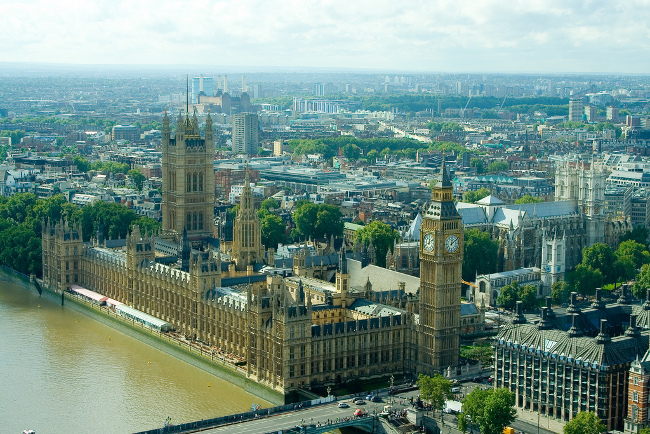 Credit: London, September 2006 by Andre Zehebauer
One policy she is more keen to impose is the London living wage, a minimum wage hike that campaigners argue is necessary to keep London's workers above the breadline. If Berry had her way the London mayor would have the power to legally enforce this wage, which is currently £9.15 in the capital, and also cap rents – both measures prospective Labour mayoral candidate Gareth Thomas has called for.
Since the Green's will at best come third next May, which policies the Tories and Labour support matter. In 2008 Berry asked her supporters to give their second preference vote to Labour's Ken Livingstone, in a move that was reciprocated (albeit at little cost to Livingstone).
This time round Berry suspects that the Tories would have enough members in the London Assembly to avoid having a Conservative mayor's budget amended (two-thirds must vote in favour of amendment for it to happen), making a Labour mayor one that the Greens would have more influence over. (Berry is also standing for the Assembly.)
Yet whilst the Greens are polling higher than the Liberal Democrats, the surge of Ukip in London – an area not noted for its resonance with an anti-migration party – has placed the purples ahead of the Greens in the mayor race, according to a recent poll by Survation. Berry is unfazed by this, arguing that the attention the Kippers have from the general election "won't last until May."
Rounding up the interview, the Right Dishonourable wondered if some of London's problems would not be improved by some Kipper-style migration controls, especially since the capital's population recently hit record levels of 8.6m.
"Our population needs to grow and we need more young people than our citizens produce," Berry said. "London's population growing doesn't worry me. What worries me is that we need to provide the housing people need."
Image Credit – Green Party, London mayoral launch, September 2015 by Rachel H