Deprecated
: Function create_function() is deprecated in
/home/jimmyni1/public_html/wp-content/plugins/wp-spamshield/wp-spamshield.php
on line
2033
A Conservative attack video aimed at smearing Labour leader Jeremy Corbyn as a "threat to our national security" was taken down on Tuesday following a copyright infringement claim from a supporter of the hard left MP.
Adrian Cousins, editor of socialist website Counterfire, challenged the Tories over the use of some footage in their attack video which appears to have belonged to him.
In a Facebook post Cousins said: "Just had the Tory Jeremy Corbyn attack video removed from YouTube for copyright infringement."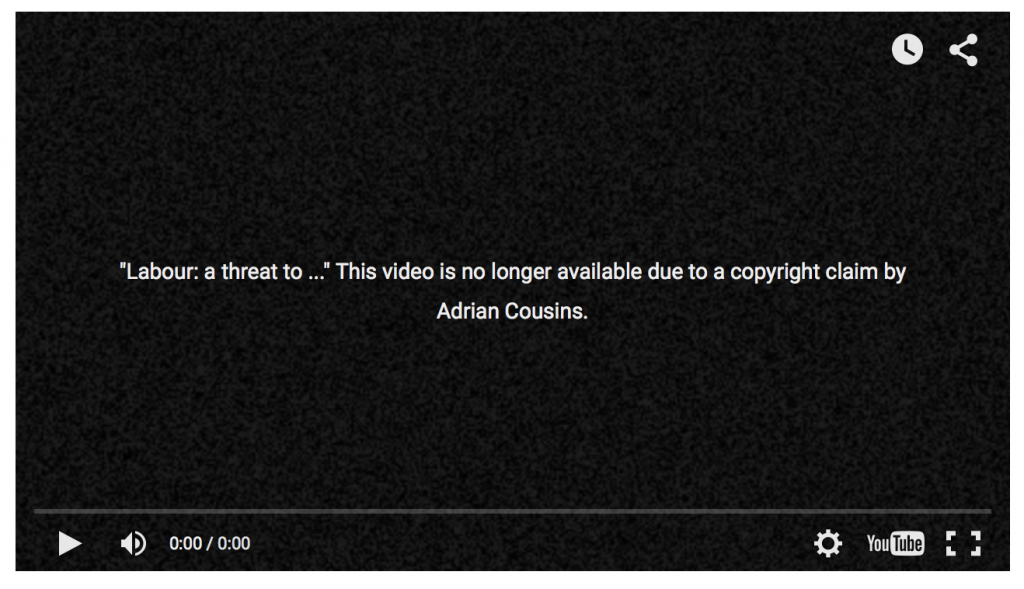 The takedown is ironic given the vigour with which the Tories have protected intellectual property over the course of the last parliament, with internet service providers pushed into blocking a number of piracy websites, including Pirate Bay, only in March of this year.
Andy Maxwell of TorrentFreak, a blog dedicated to filesharing, was rather irked by the infringement:
"Given the Conservatives' strong support for the rights of copyright holders in recent years, the fact they would use 'stolen' video footage for a campaign is surprising enough. But to go one further and use footage filmed by an opposition supporter really is something else."
Following the takedown the Right Dishonourable got in touch with the folks at Conservative headquarters to see what they had to say for themselves:
And does this prove that in the age of the Internet existing copyright laws should be relaxed in favour of more fair use? @CCHQPress — Jimmy Nicholls (@jdenicholls) September 15, 2015
No response just yet.
Image Credit – The Battle of Copyright, June 2011 by Christopher Dombres