The royals, even to their defenders, are a kind of entertainment. The leader in this week's Spectator described royal lives as highly relatable, with the "rhythms of royal news … so much more aligned with our own life experience" than tales of grubby politicians.
Others, myself included, think the Windsors are more circus than soap opera. And it was in this vein that the comedian Danny Baker tweeted a black and white photo of a young simian held between two poshos. The caption "royal baby leaves hospital" was in response to the birth of Archie Harrison Mountbatten-Windsor, son of Meghan Markle and Harry Windsor.
Baker later said it "was supposed to be joke about royals vs circus animals in posh clothes". This was offered after, in Baker's words, the picture was "interpreted as about monkeys and race", prompting him to delete it.
Given Markle's mixed heritage it's unsurprising that many saw an unfortunate connotation. Still less surprising is that shortly after his apology Baker was fired as a BBC 5 Live presenter.
Some doubtless do believe Baker is a racist. According to Baker, the BBC staffer who called him "took a tone that said I actually meant that ridiculous tweet". I find it unlikely that he did mean it, or that the Beeb genuinely thought so, but people are welcome to think that Baker has been suppressing deep racist instincts for decades and just couldn't resist a monkey gag.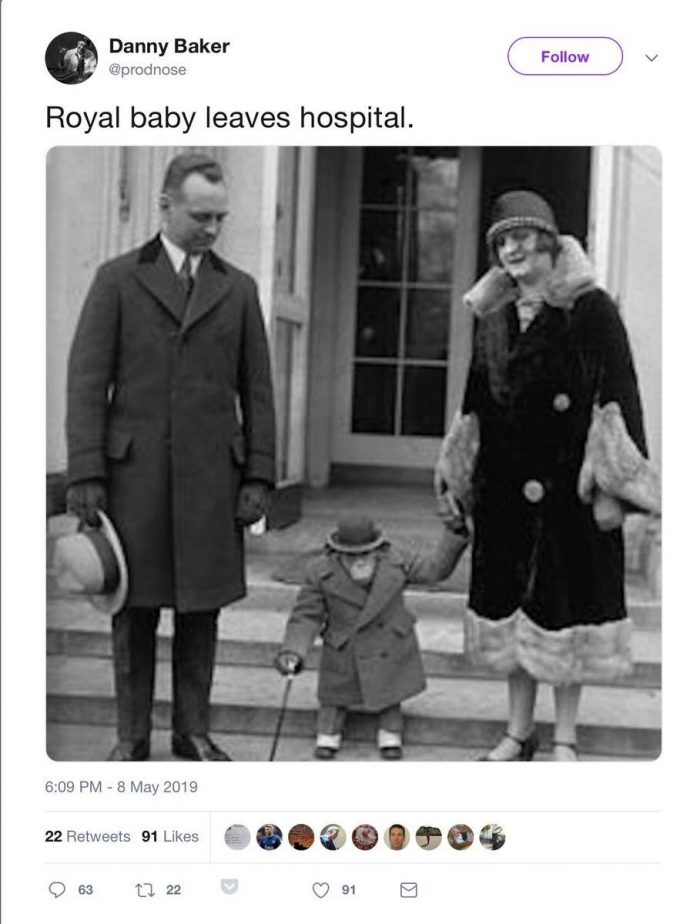 What's more believable is that the Beeb will not defend even to its mild inconvenience the right of its presenters to make a faux pas on social media. Even the drabbest accounting firm probably has more appetite for controversy than the corporation.
Baker feels he deserves to lose his job, even if he dislikes the manner of his sacking. I think he's wrong. It's insane that people are being sacked for honest mistakes like this. As fellow comedian Dara Ó Briain said, Baker deleting the tweet and apologising should have been enough to atone for an honest error of judgment.
And what does the sacking achieve? Will the crybabies be restored knowing that a comedian has one less source of income? And will it make other public figures read and re-read their tweets to spot any potential bigotry that could be read into things?
On the first count, I don't think we should care. In our era of bigotry tinnitus those who want to be offended will always find ways to be, and we cannot have a public discourse of any quality if we pander to them.
On the second, Baker's scalp will make people think again before tweeting if the many examples of other people being sacked for speaking out of turn haven't encouraged them to do so already. Companies have long favoured anodyne public statements for similar reasons. It's only a shame that entertainers will increasingly feel obliged to ape them.
I don't want to live in a country where people are cowed into saying nothing in case what they say may be inadvertently offensive and threatening to their livelihoods. This is far beyond the "good manners" that advocates allege political correctness can instil. It's effect will be to diminish our public conversation as people say and joke less.
I at least am offended by that.
Image based on Smile, May 2012 by Tim Simpson