Deprecated
: Function create_function() is deprecated in
/home/jimmyni1/public_html/wp-content/plugins/wp-spamshield/wp-spamshield.php
on line
2033
What might well have been forgotten as an uneventful protest after the triumphant Conservative Queen's Speech will now be noted for an unpleasant confrontation outside the steps of New Scotland Yard, a short walk from Parliament.
Supporters of various socialist groups, including the Socialist Workers' Party and the People's Assembly Against Austerity, were looping back on themselves after assembling outside Downing Street and marching down Victoria Street. As the march approached the St James's Park tube station it came across the arch-enemy in the form of Ukip's sole MP Douglas Carswell, who was waiting for the bus.
Wow. Chatting with @DouglasCarswell at St James. And some friends turned up… pic.twitter.com/POVjAwu6Cu

— Harry Cole (@MrHarryCole) May 27, 2015
Socialist distaste for the Tories on these marches is hardly subtle. Many of the protestors had been happily chanting "Tory scum" as they plodded past Parliament Square.
But this is nothing compared to the fanatical response that can be elicited when Ukip is mentioned. In the eyes of a few whilst the Tories are merely callous, the Kippers are pure evil.
As such whilst Carswell was initially heckled with cries of "racist" and "fascist", he eventually had to be escorted into a police van, which managed to drive its way through the protestors who scuttled around the front of the car.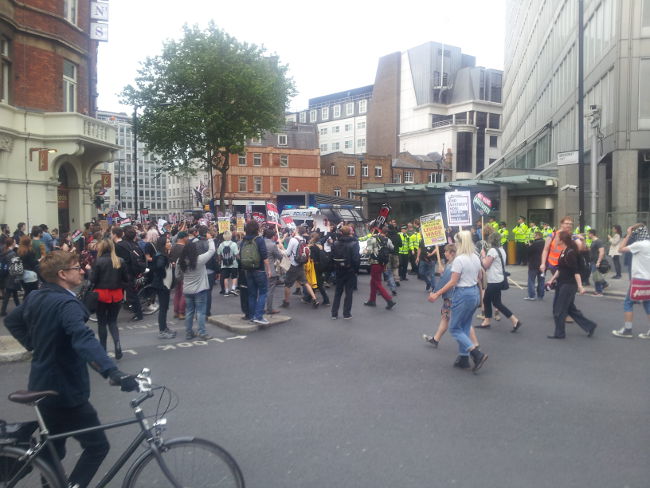 Such a move will provide ample ammunition to those wishing to discredit the anti-austerity movement, which was later addressed by the Labour MP Jeremy Corbyn opposite Downing Street, after much of the march had presumably left for the pub.
Condemning Tory plans to sell off housing associations, Corbyn lamented that his party had been rejected at the ballot box after being "insufficiently clear" about what it was trying to do. Even if this interpretation is generous it has a ring of truth to it as the Left struggles to respond to its battering at the polls.
Header Image – Queen's Speech Protest on Victoria Street, The Right Dishonourable